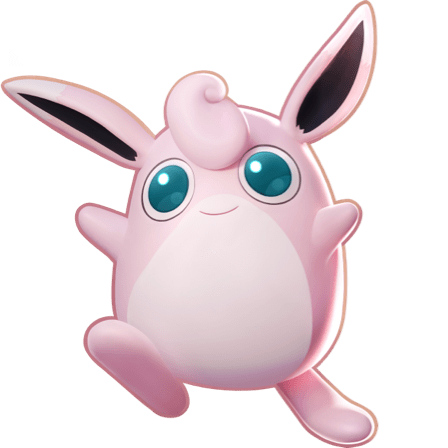 Wigglytuff learns lots of moves that can stop opponents in their tracks, making it well-suited to using teamwork tactics with its allies in battle.

Wigglytuff was first introduced in Generation 1.

Wigglytuff is a Melee Supporter that deals Special Attack damage.

Wigglytuff's passive ability is Cute Charm, which makes opposing Pokémon infatuated for a short time. Infatuated opposing
Pokémon become enthralled and approach the infatuating Pokémon against their will. THe effects of this ability have a
cooldown and cannot trigger on the same opposing Pokémon in quick succession.
Wigglytuff's Viability Stats:
| 2 | 5 | 5 | 2 | 9 |
| --- | --- | --- | --- | --- |
Wigglytuff's Stats at Level 15:
| HP | Attack | Defense | Sp. Atk | Sp. Def | Speed |
| --- | --- | --- | --- | --- | --- |
| 9452 | 310 | 539 | 627 | 482 | 3700 |
Wigglytuff's Abilities:
| | Level Unlocked | Ability Name | Ability Description | Cooldown | Damage at Level 15 |
| --- | --- | --- | --- | --- | --- |
| | 1 | Pound | Perform a combo attack in front, dealing damage to enemies and decreasing their movement speed for a short time when the attack hits. | 5s | 1863 |
| | 1 | Defense Curl | Perform a quick roll, granting the user a shield and throwing any enemies hit by the roll. Hitting an obstacle while rolling will change the direction the user is moving and reset the cooldown of Pound, Double Slap, or Dazzling Gleam. | 8s | 0 |
| | 4 | Rollout | Perform a quick roll, granting the user a shield. Also deals damage to enemies hit by the roll and throws them. Hitting an obstacle while rolling will change the direction the user is moving and reset the cooldown of Pound, Double Slap, or Dazzling Gleam. | 10s | 1081 |
| | 4 | Sing | Has the user sing, decreasing the movement speed of nearby enemies for a short time. Enemies that stay in the move's area of effect for a while are put to sleep for a short time, which also decreases their Defense and Sp. Defense. | 10s | 0 |
| | 6 | Double Slap | Perform a combo attack in front, dealing damage to enemies and decreasing their movement speed for a short time when the attack hits. | 5s | 2628 |
| | 6 | Dazzling Gleam | Emit a powerful flash in the designated direction, dealing damage to enemies in the area of effect twice. | 4.5s | 2191 |
| | 9 | Star Recital | Begin performing a recital, granting the user and nearby allies a shield as well as removing all status conditions from the affected allies and make them immune to hindrances for a short time. | Variable | 0 |