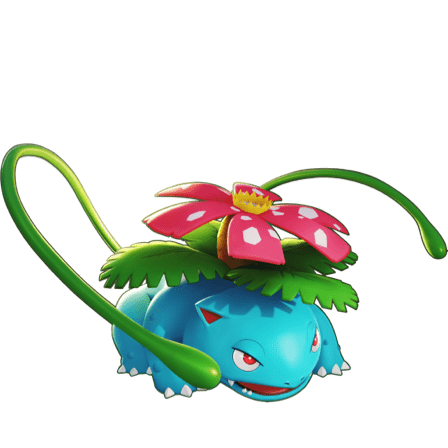 If its moves land successfully, Venusaur can deal a huge amount of damage to its opponents,
even from far away.

Venusaur was first introduced in Generation 1.

Venusaur is a Ranged Attacker that deals Special Attack damage.

Venusaur's passive ability is Overgrow, which increases damage dealt when at low HP.
Venusaur's Viability Stats:
| 9 | 4 | 4 | 5 | 2 |
| --- | --- | --- | --- | --- |
Venusaur's Stats at Level 15:
| HP | Attack | Defense | Sp. Atk | Sp. Def | Speed |
| --- | --- | --- | --- | --- | --- |
| 6321 | 293 | 174 | 962 | 137 | 3700 |
Venusaur's Abilities:
| | Level Unlocked | Ability Name | Ability Description | Cooldown | Damage at Level 15 |
| --- | --- | --- | --- | --- | --- |
| | 1 | Seed Bomb | Hurl a large seed at the designated area, dealing damage to enemies in the area of effect. | 6s | 859 |
| | 1 | Razor Leaf | Launch many sharp-edged leaves in a quick succession of attacks, dealing damage to enemies in the area of effect. | 9s | 2610 |
| | 5 | Sludge Bomb | Hurl unsanitary sludge to the designated area, dealing damage to enemies in the area of effect, leaving them poisoned and decreasing their movement speed and Sp. Defense for a short time | 6s | 1529 |
| | 5 | Giga Drain | Drain HP from enemies in the area of effect, dealing damage to them and restoring HP when this hits. Also reduces damage received for a short time. | 7s | 1153 |
| | 7 | Solar Beam | Blast a bundled beam of light, dealing damage to enemies in a line. | 10s | 7790 |
| | 7 | Petal Dance | Scatter petals around the user, increasing movement speed for a short time and dealing damage over time to enemies in the area of effect. | 11s | 2256 |
| | 9 | Verdant Anger | Launches a giant seed toward the designated area. The seed then splits apart, dealing damage to enemies in the area of effect and decreasing their movement speed for a short time. | Variable | 2662 |