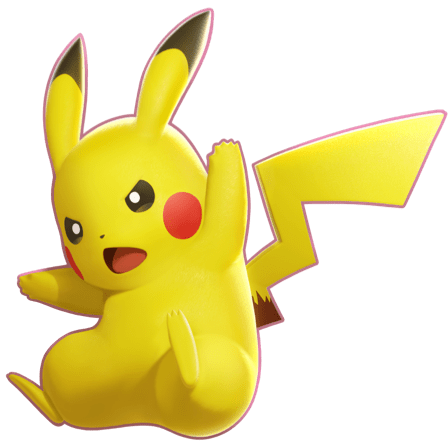 Pikachu is a Pokémon that excels at attacking opponents from far away with electricity.
Sometimes the attacks even leave opposing Pokémon paralyzed!

Pikachu was first introduced in Generation 1.

Pikachu is a Ranged Attacker that deals Special Attack damage.

Pikachu's passive ability is Static, which paralyzes all nearby opponents upon receiving damage.
Pikachu's Viability Stats:
| 9 | 3 | 5 | 4 | 3 |
| --- | --- | --- | --- | --- |
Pikachu's Stats at Level 15:
| HP | Attack | Defense | Sp. Atk | Sp. Def | Speed |
| --- | --- | --- | --- | --- | --- |
| 6300 | 290 | 175 | 954 | 135 | 3700 |
Pikachu's Abilities:
| | Level Unlocked | Ability Name | Ability Description | Cooldown | Damage at Level 15 |
| --- | --- | --- | --- | --- | --- |
| | 1 | Thunder Shock | Release electricity, dealing damage to enemies in the area of effect. Also paralyzes enemies for a short time. | 5s | 1307 |
| | 1 | Electro Web | Attacks and captures enemies using an electric net, leaving them unable to move. | 9s | 847 |
| | 4 | Electro Ball | Hurl an electric orb, dealing damage to enemies in the area of effect and leaving them paralyzed for a short time. This move's damage increases the lower the enemies remaining HP is. | 5s | 1869 |
| | 4 | Thunder | Drop wicked thunderbolts, dealing damage to enemies in the area of effect. | 8s | 2947 |
| | 6 | Volt Tackle | Has the user electrify itself and charge ahead, throwing opposing Pokémon. | 10s | 1015 |
| | 7 | Thunderbolt | Attack with a strong electric blast, dealing damage to enemies in the area of effect and leaving them unable to act. | 8s | 1358 |
| | 9 | Thunderstorm | Attacks enemies near the user with tremendous bolts of lightning. | Variable | 4388 |