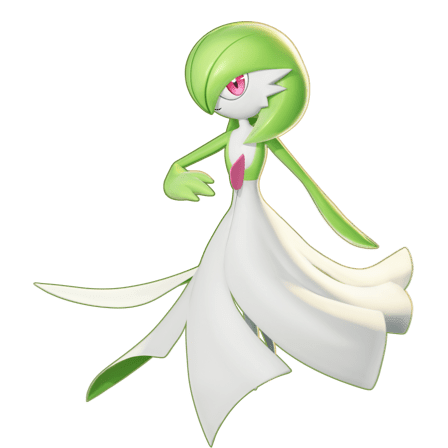 Gardevoir strikes its opponents from far away with its mysterious psychic power. It has a lot
of moves with unique movements, but they are very powerful when used effectively.

Gardevoir was first introduced in Generation 3.

Gardevoir is a Ranged Attacker that deals Special Attack damage.

Gardevoir's passive ability is Synchronize, which inflicts on the opponent the same decreased
movement speed or damage-over-time condition inflicted on Gardevoir.
Gardevoir's Viability Stats:
| 9 | 3 | 3 | 6 | 3 |
| --- | --- | --- | --- | --- |
Gardevoir's Stats at Level 15:
| HP | Attack | Defense | Sp. Atk | Sp. Def | Speed |
| --- | --- | --- | --- | --- | --- |
| 6320 | 334 | 174 | 1001 | 138 | 3700 |
Gardevoir's Abilities:
| | Level Unlocked | Ability Name | Ability Description | Cooldown | Damage at Level 15 |
| --- | --- | --- | --- | --- | --- |
| | 1 | Confusion | Attacks straight in the designated direction. | 4.5s | 1152 |
| | 1 | Teleport | Has the user warp to the designated area, increasing the damage dealt by one basic attack after warping. | 11s | 0 |
| | 6 | Psyshock | Attacks the designated location three times. This move's cooldown is reduced each time one of these attacks hits an enemy. | 10s | 4362 |
| | 6 | Future Sight | Sets a delayed explosion. When the explosion hits an enemy, it reduces this move's cooldown. | 9s | 2665 |
| | 8 | Psychic | After hitting an enemy or traveling its maximum distance, deals damage over time to enemies in the area of effect and decreases their movement speed for a short time. | 7s | 1839 |
| | 8 | Moonblast | Has the user attack while moving back to create distance. When the move's blast hits, it deals damage to enemies in a cone and leaves the enemy closest to the user unable to act for a short time. | 6s | 1359 |
| | 10 | Fairy Singularity | Warps Space in the designated area, drawing in enemies to the center. Shoves and deals damage to enemies the instant the warped space disappears. | Variable | 3516 |