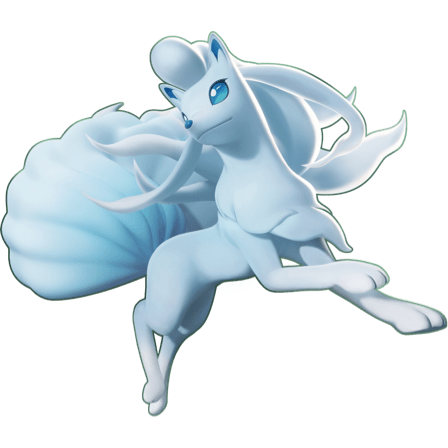 Alolan Ninetales uses moves that freeze its opponents in ice, making them unable to move or attack.

Alolan Ninetales was first introduced in Generation 7.

Alolan Ninetales is a Ranged Attacker that deals Special Attack damage.

Alolan Ninetales's passive ability is Snow Warning, which causes snow to fall on an opposing Pokemon, dealing damage
to it and decreasing its movement speed for a short time. Boosted attacks and moves (except Aurora Veil) sling snow,
and hitting the same target with snow multiple times will freeze it for a short time.
Alolan Ninetales's Viability Stats:
| 8 | 3 | 3 | 5 | 6 |
| --- | --- | --- | --- | --- |
Alolan Ninetales's Stats at Level 15:
| HP | Attack | Defense | Sp. Atk | Sp. Def | Speed |
| --- | --- | --- | --- | --- | --- |
| 6299 | 289 | 175 | 955 | 135 | 3700 |
Alolan Ninetales's Abilities:
| | Level Unlocked | Ability Name | Ability Description | Cooldown | Damage at Level 15 |
| --- | --- | --- | --- | --- | --- |
| | 1 | Powder Snow | Attack with a chilly gust of powdery snow, decreasing the movement speed of enemies for a short time when it hits. | 5s | 1166 |
| | 1 | Icy Wind | Attack with a gust of freezing air, dealing damage to enemies in the area of effect and decreases their movement speed for a short time when it hits. | 8s | 2513 |
| | 4 | Avalanche | Attack with a gush of chilly ice toward the designated area. The ice forms a wall that cannot be passed through on land. After a short time this wall melts and collapses, dealing damage to enemies in the area of effect. | 5s | 1963 |
| | 4 | Dazzling Gleam | Attack with a powerful cone of blinding light, leaving enemies unable to act when this move hits. | 8s | 1102 |
| | 6 | Blizzard | Summons a howling blizzard in two blasts in front of the user. The first blast deals damage to enemies in the area of effect and decreases their movement speed for a short time. The second blast deals damage to enemies in the area of effect and shoves them. If the second blast hits an obstacle, it also deals damage to enemies near the point of impact. | 11s | 1178 |
| | 6 | Aurora Veil | Create an aurora around the user, reducing damage received by the user and nearby allies in the area of effet. While the user is inside the aurora, its movement speed is increased and its basic attacks become boosted attacks. | 13s | 0 |
| | 9 | Snow Globe | Attack with a chilly snow and ice, dealing damage to enemies in the area of effect when it hits. Deals increased damage to enemies that are frozen. | Variable | 4264 |